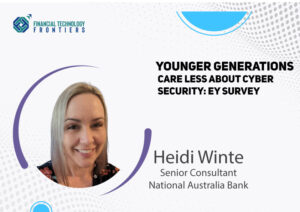 Gen Z and millennials might be labelled as 'digital natives' who have grown up with computers, smartphones, and technology. However, studies show they are less likely to care about cybersecurity. The 2022 EY Human Risk in Cybersecurity survey found younger generations were likely to use the same password for professional and personal accounts, and they were also more likely to accept web browser cookies on work-issued devices.
For Heidi Winter, Senior Consultant in National Australia Bank (NAB)'s Cyber Threat and Vulnerability Intelligence team, educating young people and making them aware of cybersecurity was a passion that took off in 2017 and has been gathering momentum ever since. The group now runs events for young people (aged 6-16) across the globe. "It hasn't always been easy, but it has been an excellent journey and the more we can do to educate ourselves and the next generation, the better," said Heidi.
Heidi is calling on more of her colleagues and the bank's network to get involved in this global initiative. "Whether you're new to tech or an old hand, everyone is guaranteed to learn something new," she said.