The bank uses AI extensively and has created a virtual human to interact with its customers: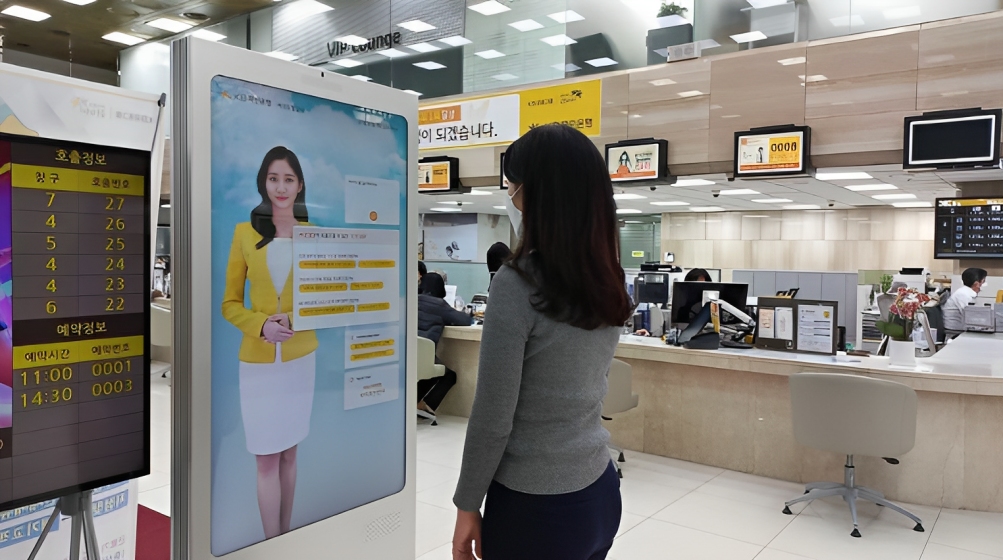 Part of KB Financial Group, KB Kookmin Bank, is one of South Korea's largest banking enterprises, offering practically all banking services and serving its customers worldwide. The bank has in the recent past implemented a unique kiosk-type 'AI Banker', the first in the country, in collaboration with DeepBrain, a company that facilitates its customers to use AI and create lifelike human-based AI avatars.
The bank has used DeepBrain's technology to build a virtual human capable of real-time interactive communication. AI Banker can communicate directly with users by fusion of speech synthesis, video synthesis, natural language processing and speech recognition technologies. The bank is now offering its customers non-face-to-face interactions and shortens customer waiting time through faster response.
A VIRTUAL HUMAN
Typically, AI Banker greets customers when they arrive at the kiosk and provides answers to their questions. The answers go through a process of deriving optimal information based on KB-STA, a financial language model developed by the bank, and delivered to customers through the AI Banker's video and voice interface that works on DeepBrain's AI human technology.
AI Banker actually guides a customer on how to use peripheral devices like Smart Automated Machines, ATMs and pre-writing service, introduce financial products, and guide the location of the kiosk installation point. The system also offers information on topics like financial common sense, the weather for the day and surrounding facilities. In idle mode it can make move its hands, nod etc and can recognize customers sitting in front of it. When a customer leaves the seat, it bids goodbye with a Thank You.
ADOPTING RPA UNIQUELY
The bank has set up an RPA ACE team, which is an agile unit of the bank aiming to adapt quickly to changes in circumstances and make it a priority to manage projects efficiently and secure leading competitiveness. The main intention is to introduce RPA project quickly. The team is also responsible for every task related to RPA from planning to technical review and implementation of RPA in all branches.
The bank has in fact been preparing for digital transformation over a few years, and RPA was introduced about 3 years ago. At present some 183 services are automated using RPA, saving an estimated 1.25 million working hours. What is important is RPA enables introduction of automation directly into any existing systems.
The bank is now using UiPath RPA, which works reliably even on large-scale services and provides visual information in the event of any problem. The bank is proposing for end-to-end automation.
The bank is in the forefront in using blockchain technologies to improve its internal banking process. Some of the benefits it envisages are issuing digital coins, alternative funding options, custodial services and trading.
LEVERAGING MYDATA
The South Korean Government has introduced a new data-sharing program, aimed at enabling financial service providers to offer more customized solutions for customers. Called MyData, it is a standardized API, which allows different applications from different financial organizations to interact, while also protecting personal data.
MyData also allows accredited financial services providers to access personal data from about 800 financial institutions across Korea's financial sector. With that data, banks can better tailor their products to customers' needs, and offer better transparency to customers.
KB Kookmin Bank has partnered with VMware Tanzu Labs to design and build an innovative digital services leveraging MyData. The bank could improve the user experience of the MyData app, which saw consent process time decrease by 18%, thereby significantly speeding up a very complicated and strictly regulated process.
The bank now intends to take the collaboration to a next level. It plans to transform itself beyond a traditional financial institution and become a digital-first bank. It hopes to expand its range of digital services in the e-commerce, automotive and healthcare space, leveraging VMware Tanzu Application Service as its cloud native application platform of choice.
The bank had in 2018 decided to allocate 2 trillion won ($1.76 billion) up to 2025 to accelerate its digital transformation. Under the project, the bank had proposed to groom 4,000 digital talents, spur in-house venture efforts, fund employee visits to digitally-innovative companies and support training programs. It will be a transformation across the organization and reshape its entire operational process from a digital perspective and devise a 'digital index' that measures an employee's contribution level to digital innovation.
DIGITAL BRANCHES
What is unique about the digital transformation in the bank is that the focus is not just on online, but at physical branches as well. The bank has said the digital strategy is geared towards customer convenience. It cites the example of its Liiv TalkTalk, an AI powered banking app, which can not only handle financial services but also features an instant messaging function, much like KakaoTalk. Apart from the chatting function, its users can also directly send and receive money with friends in their mobile contact lists.
---
This article has been compiled based on publicly available information on the web, particularly the bank's own website.